Leather Concealed Carry Weapons Permit Holder & Wallet
$17.99 USD
OttersOutlet (

1

)
Condition new
Item id# 6210736
quantity 100 available
Shipping USPS, FREE Shipping
Add to Cart
Description
Payments, Shipping & Policies
Ask a Question
Wallet Does Not Have Cut Out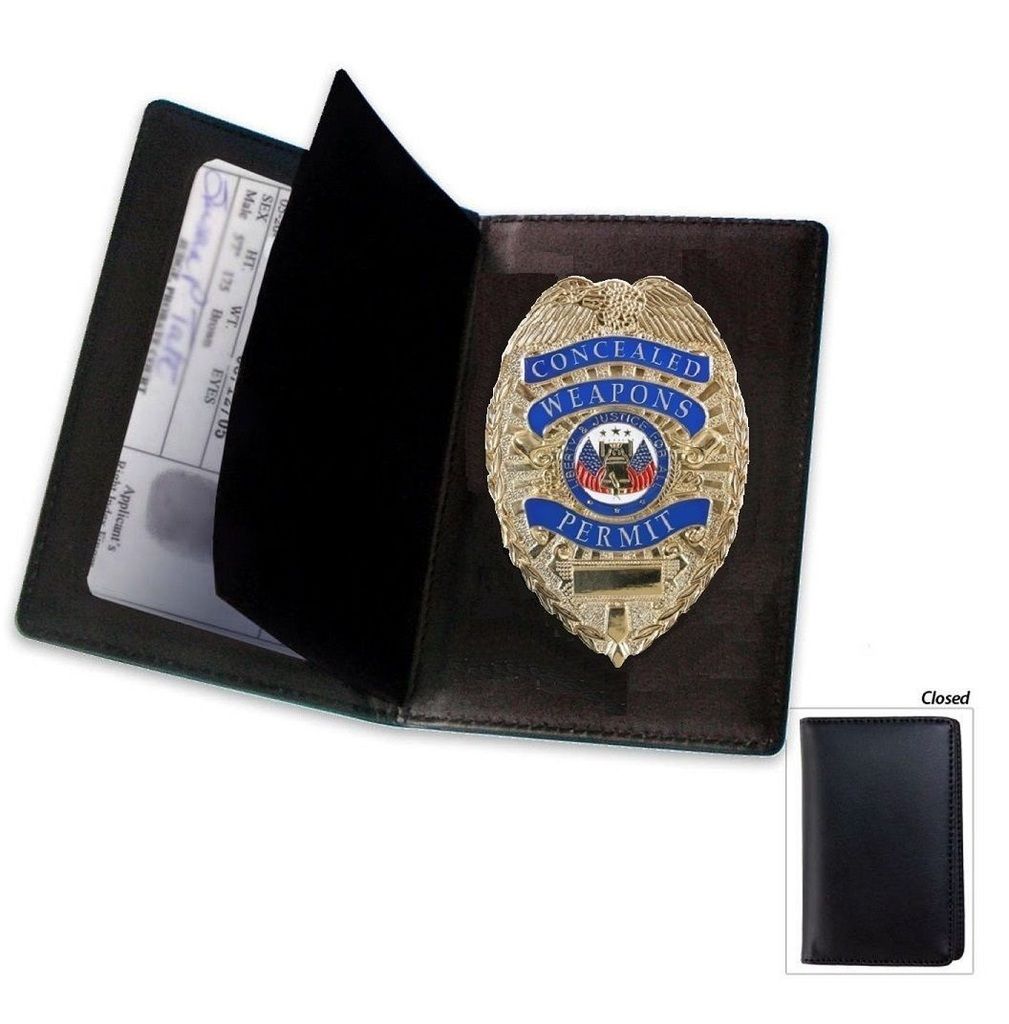 NOTE:
This is NOT a permit to carry. This is a companion identification badge to go along with your actual concealed carry permit. Please follow all local, state and federal concealed carry laws.
Item Specifics
CONCEALED WEAPON CARRY CCW PERMIT & BADGE WITH WALLET. POLICE QUALITY BADGE WITH HIGH LUSTER GOLD FINISH. DON'T BE FOOLED BY CHEAP IMITATORS! LEATHER WALLET MEASURES 3" WIDE X 4-3/4" LONG CLOSED, 6" X 4-3/4" OPEN. BADGE MEASURES 3-1/8" X 2-1/8". BRAND NEW.
This full size law enforcement quality badge is master crafted; with a durable high luster finish and a strong pin attachment on the back.The Wallet has a window for your permit or ID. An absolute must for any person that carries a concealed weapon. It is your responsibility to check your local and state laws for restrictions. Note: The gold concealed carry badge IS INCLUDED but can be removed so any other badge can be stored in this wallet. The badge can also be pinned on your belt, pocket or holster.
UPC 4861543123504
Brand OttersOutlet
Mfg Part # GCCWW
Size Other
Color Black
Age group Adult
Gender Male
00138
Payment Methods
Shipping USPS, FREE Shipping

Payment Policy
OttersOutlet is a family owned and operated business, we have been on ebay for 4 years and are growing fast! we are new to Blujay and hope to earn your business and trust!
Shipping Policy
Items ship within 1 business day
Return/Exchange Policy
Please contact us for instructions, thank you
Please Login or Register first before asking a question.